Stazzu for sale north Sardinia ref Biagio 1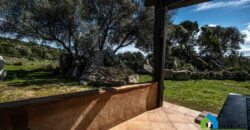 Description
The Demuro Immobiliare team is delighted to offer this Stazzu for sale North Sardinia. The property is just 16 km from Arzachena immersed in the scenic Gallura's granite interior and fragrant vegetation.
The traditional "stazzo" inspired home is about 110 square meters in size, in the past the building was a portion within a larger farmstead accommodation resort.
All around is a 3 hectares spacious private park (30.000 square-meters) divided in 2 adjoining portions, where also a beautiful rural church lies.
Since it has a flat shape, it is ideal to be cultivated and to be destinated for a small breeding kennel.
There is also a beautiful small rural church.
THE INSIDE- CUSTOMIZE IT AS YOU LIKE IT
Due to its former destination as part of an agritourism, this country home is divided into 3 equal units.
There are therefore 3 small apartments with mezzanines functioning as sleeping quarters.
Buyers can obviously customize the layout according to their needs by, for instance, interconnecting them and creating a unique living area.
WATER AND ELECTRICITY
There is water and electricity already available in this country home near Porto Cervo, Costa Smeralda.
POTENTIAL FOR AN EXTENSION
Furthermore, it is possible to purchase another building with the same size and additional 3 hectares of land, or even purchase additional properties and land within the same estate.
BEACHES AND SERVICE WITHIN CLOSE VICINITY
This Sardinia rural home is about 20 minutes drive from the beautiful beaches of Cannigione and Rena Maiore. Also, in the medieval, charming village of Luogosanto you can find all the essential services within 7 km drive
COUNTRIES HOME FOR SALE SARDINIA ITALY
We are a Sardinian real estate agency operating since 2004, promoting the sale of land, vineyards and traditional farmhouses in the Gallura region.
Come to visit us in our offices in Olbia, Luogosanto and Porto Cervo.
Please login or register to view contact information for this agent/owner